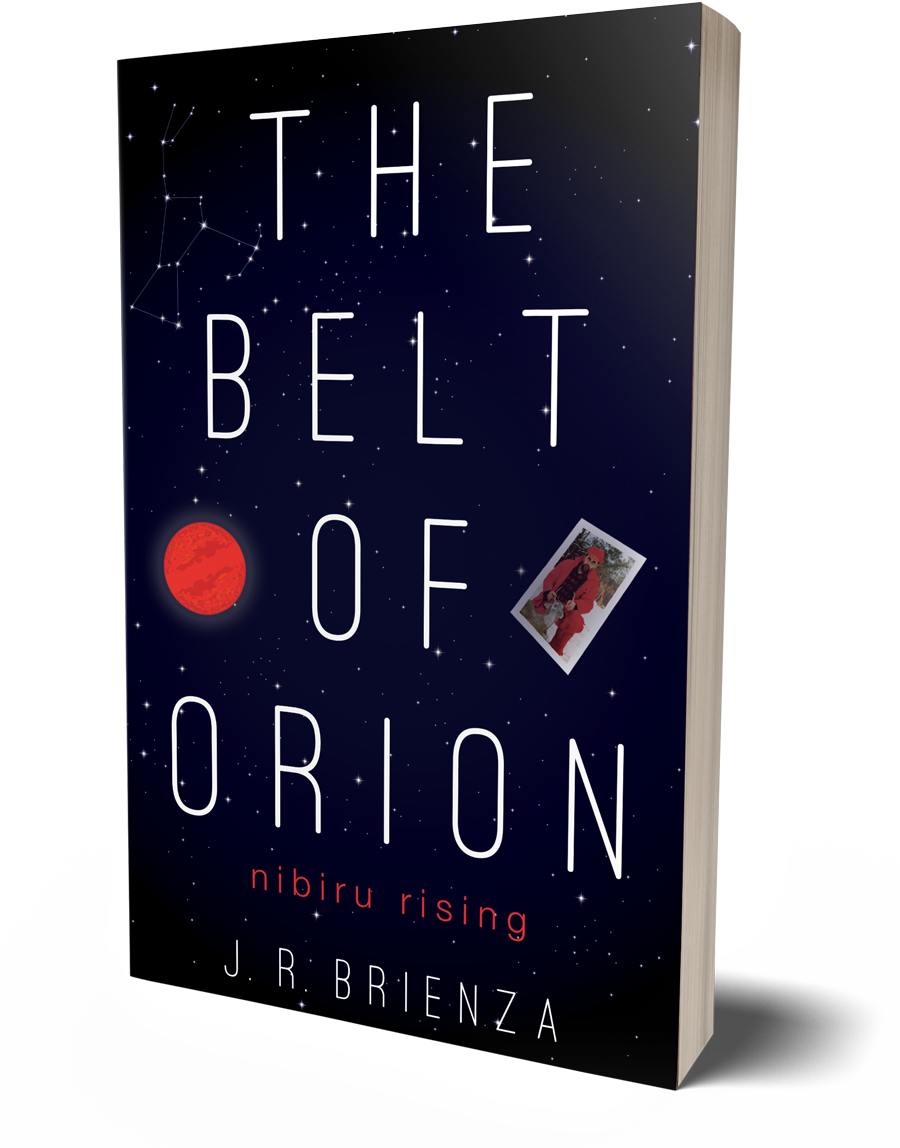 THE BELT OF ORION
J.R. Brienza
Civil war has raged on for years between the human-like Anunnaki species and reptilian creatures on a planet millions of miles away from earth. Despite the distance, earth's inhabitants will soon become more embroiled in the goings on of this mysterious planet than they realize. For one thing, aliens from the conflict-strewn planet are closer to earth than previously thought. For another, mankind may find clues to the root of its very existence in these alien creatures. Planet X, or Nibiru, as it is often called, is tabloid talk show host Kelly Ramirez's ticket to Emmy glory.
Unfortunately for Kelly, her televised investigations into the alien planet soon lead her down a far less glamorous—and much more treacherous—path. Likewise, Rachael Ryan never thought a faraway planet would effect her simple life. But when a mysterious tragedy befalls Rachael's beloved elderly father, she soon finds that Planet X has an impact on her life beyond her imagining. In author J. R. Brienza's thrilling debut, The Belt of Orion: Nibiru Rising, aliens walk among us as the government feverishly tries to reassure that everything is fine. But with the giant Planet X plunging toward earth, will anything really ever be fine again?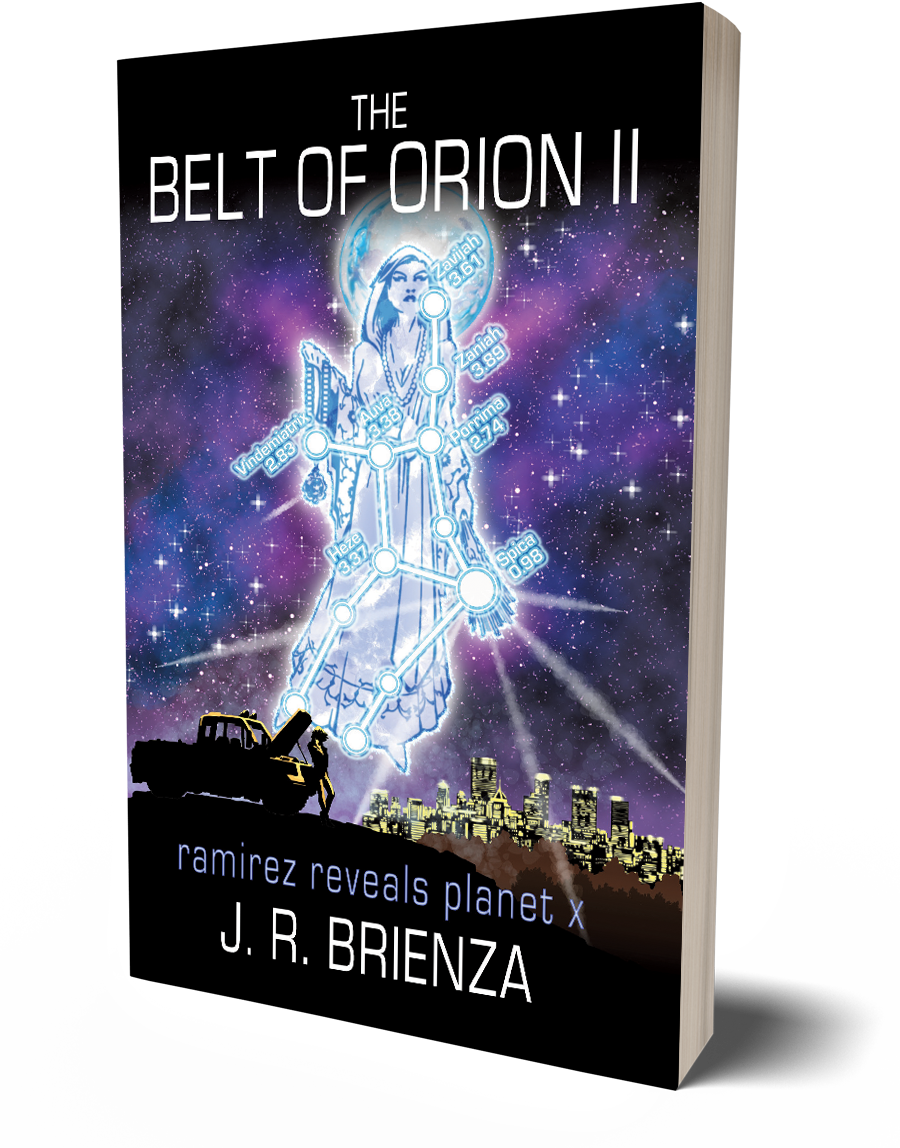 THE BELT OF ORION 2
J.R. Brienza
In The Belt of Orion Vol. II: Ramirez Reveals Planet X, sci-fi author J. R. Brienza's highly-anticipated sequel to her award-winning novel, The Belt of Orion: Nibiru Rising, the newly discovered Planet X has become more than just the mysterious subject of tabloid journalist Kelly Ramirez's reporting that launched her to sudden fame—and danger.
Headlines shouting of a giant planet hurling toward Earth and a huge international government conspiracy to hide it made Ramirez both rich and famous. But Earth's rapidly impending contact with Planet X has drastically shifted this formerly unknown reporter's focus to unforeseen troubles that await her much-needed action.
Now, Ramirez faces a challenge that could risk more than just her career as she finds herself caught in the battle to survive the damaging geological changes that only become worse as Planet X races to Earth's surface. With the media—and the government—against her, Ramirez leads a rebellious crusade to expose the evil forces hoarding and manipulating Earth's dwindling food and water supplies.
As Ramirez embarks on a life-changing journey that will test her in ways she could never imagine, she discovers that she alone might hold the secrets to save Earth as she knows it.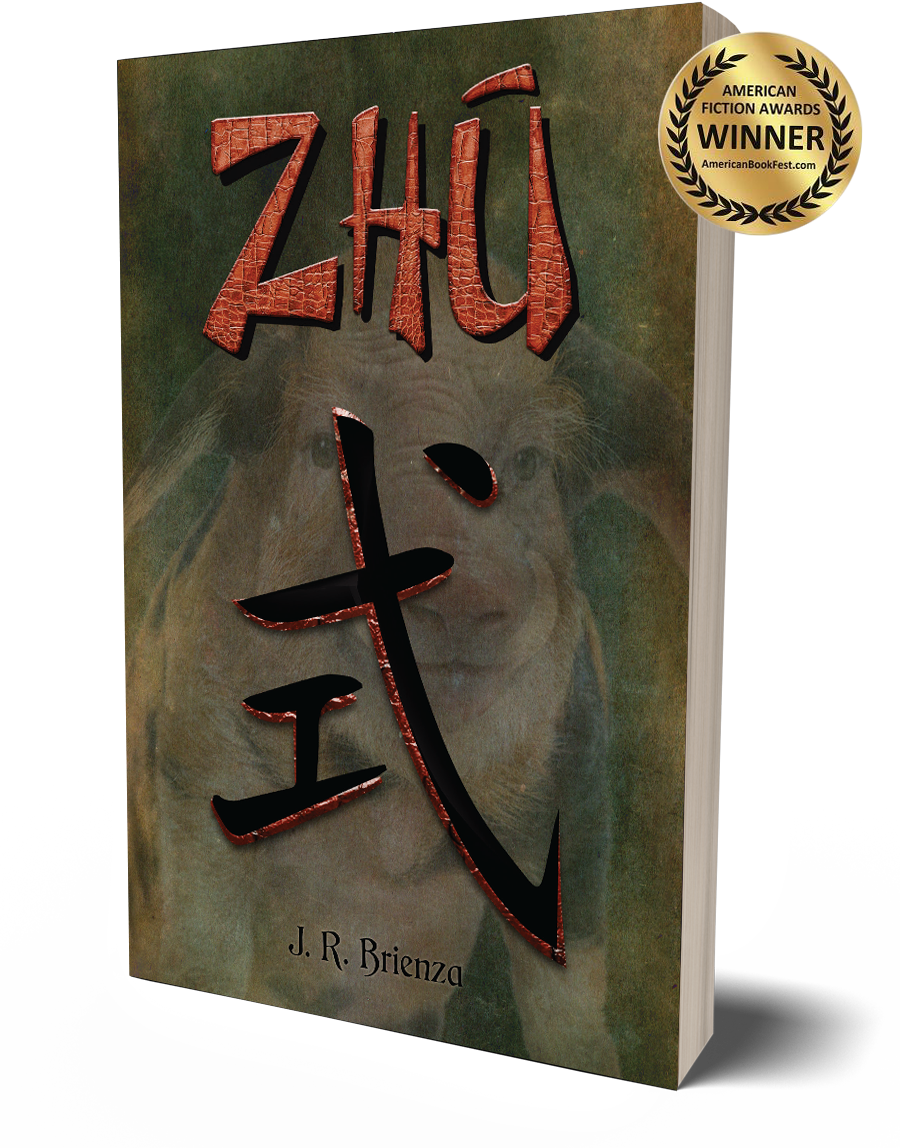 ZHÚ
J.R. Brienza
How far would you go to save a loved one's life? Tycoon Maxwell Sutherland knows how far he would, and he's not going to let anything in the world stop him.
Science advanced too slow for Maxwell to save his wife, and he's hellbent on stopping his daughter Abigail from suffering the same terrible fate. The young girl's prognosis is bad, and the disease she inherited, aggressive. It spreads through her body as though it has a single mission to snuff out her life, but Maxwell has a plan. He has an unimaginable plan. Using his vast wealth as a fulcrum, he pries back the layers of a shadowy world operated by Chimera Collaborative, a research lab specializing in producing human organs in a not so human way.
With the help of private doctors, months turn into years, and the lines of morality begin to blur. Abigail undergoes operation after operation to keep her alive, but what is seen by her father as progress is viewed by others as a macabre fascination with medical science. Has Maxwell Sutherland gone too far? Is there not any length he will go to keep his daughter alive, even if it means murder?
ABOUT THE AUTHOR
---

Janet Brienza
J. R. Brienza is an interior designer, and general contractor. She helps clients create "worlds" of their own. Her lifelong fascination with our little earth, and the multiverse beyond has ignited a passion for writing and dreaming about what could be. Brienza resides in Pittsburgh with her long time love, Jeff, and their pets.
---
Book Review
---
My name's Brooks. I run a website that helps writers with their writing, and given I been at it since 2013, I thought it time I start to write about the authors I feature on the site. To begin, I do not consider myself an expert in medical ethics, but I do consider myself a person with a deep interest in stories that have something important to say about life. When Janet (J.R. Brienza) sent me a message stating she wrote a story about a pig, I laughed, but given her ability to craft page turning manuscripts that kick with the power of a metaphorical steel toe, I wanted to read it, and within the first few minutes of scanning her draft, I knew she had something.
Read More...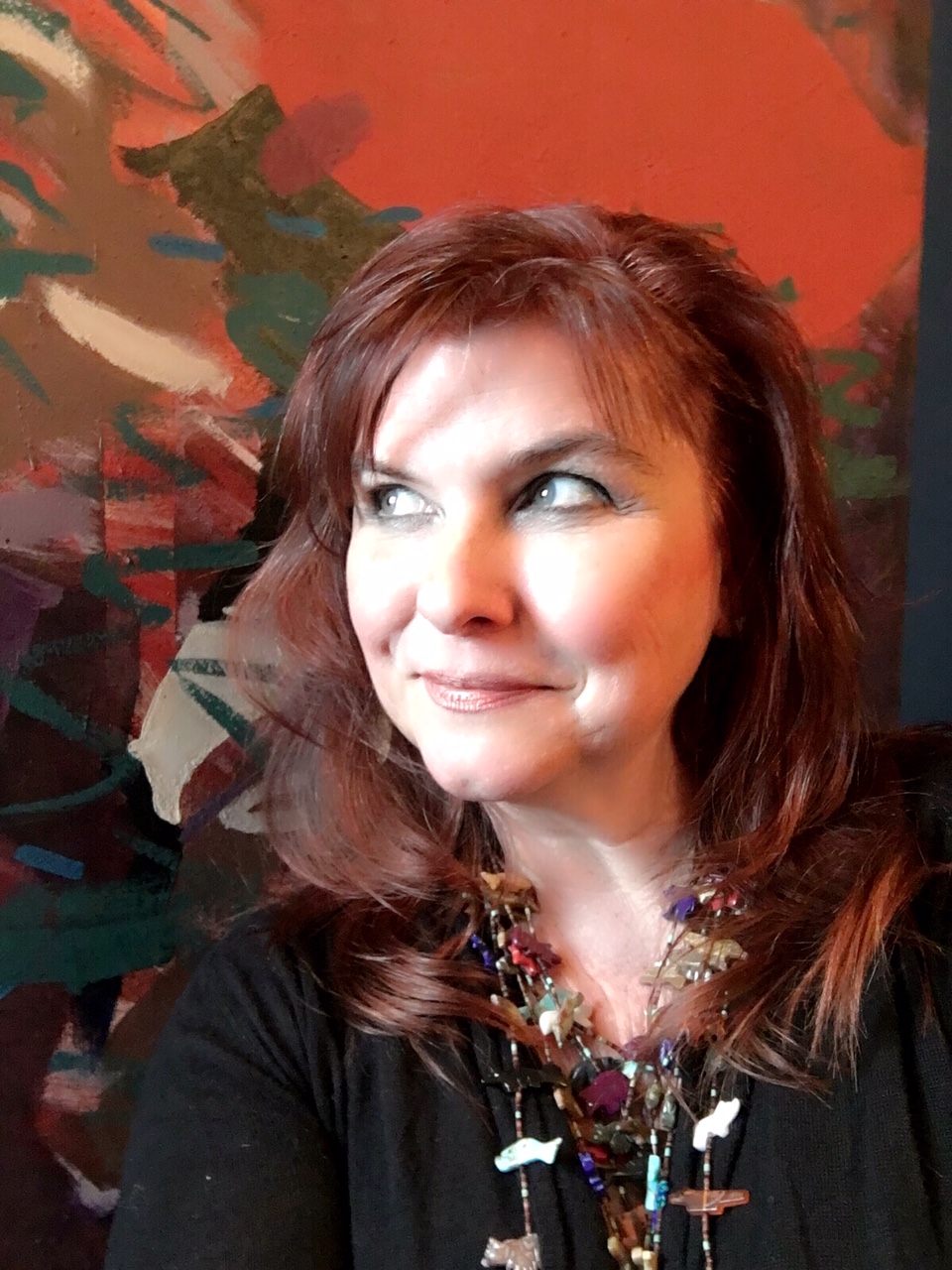 Excerpt One
"Welcome back to The Unseen, as always, we are glad you are here. Next up, is a boob tube sensation, with more than 500,000 social media followers worldwide. Let's say hello to self-proclaimed Planet X—and extraterrestrial— expert, Enlil."
Thunderous applause, and cheers from the audience, followed Enlil's introduction. Josh nodded his head and tapped his foot to the meter of the applause. "Enlil, I am pronouncing that correctly, am I not?" Asked Kelly. Enlil nodded. "I'll start with the same question I have asked all of my guests thus far. Does Planet X exist? And, if so, how have you come to that conclusion?" "Thank you for having me as part of this discussion, Kelly. In answer to the first part of your question, yes, Planet X— or Nibiru, as we call it—does indeed exist. Only now, it is no longer a planet in the traditional sense, with inhabitants living on its surface. But, rather, it is a ship, with inhabitants living inside." Silence fell over the audience. Josh lit a clove cigarette, while one already burned in his left hand. Realizing what he'd done, he decided to puff on both at once. "Why, Enlil, that is fascinating!" Kelly feigned interest. "How do you know this?" Enlil stared at her without blinking. "I know this, because I am one of the inhabitants. I am Anunnaki."
The audience went berserk. There were cheers and heckling— along with confusion on most of the audience members' faces. They waved their signs foretelling Armageddon. Some said the Rosary. Josh smiled, taking a huge hit from his double-clove concoction, and blew a big, celebratory billow of smoke, large enough to encircle his own head. "You are an inhabitant of Planet X?" Kelly smirked and rolled her eyes, all at once. She scanned her notes. Nothing that indicated Enlil actually believed himself to be an alien could be found in his bio. "In fact," she hesitated slightly, while flipping through pages, "my research team tells me that you are really Dr. Kirk Kalkstein, retired astrophysicist, former Nobel Prize nominee. Isn't that true?" Enlil had no response. He seemed neither challenged nor agitated by her assertions. "You, Dr. Kalkstein, continues Kelly, unlike our other guests, have actually been to space. You were part of the merger of the space stations Mir 2, and Freedom in 1993. It's your work on microgravity that won you that Nobel Prize nomination, a nomination you declined. Why?" "Please, Kelly, call me Enlil." He was still emotionless. "I have been Dr. Kalkstein. He and I are the same being. As for declining the nomination, I could hardly be rewarded for merely stating the obvious."